New Design 100%Oil Free Screw Air Compressor
...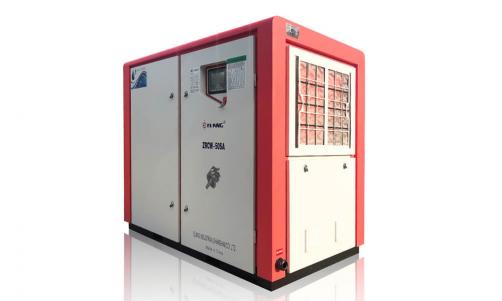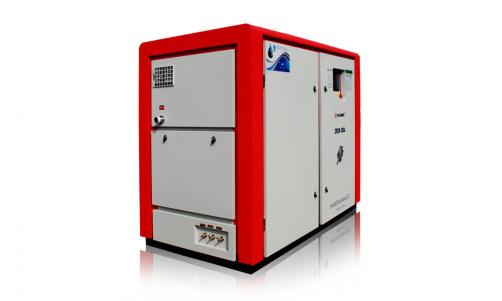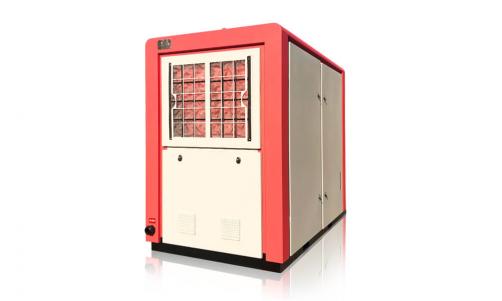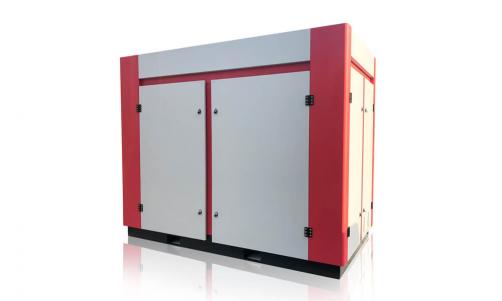 New Design 100%Oil Free Screw Air Compressor
Working pressure: 4.0~13bar
58~189psig
Air delivery: 0.7~56m3/min
25~1977cfm
Working power: 7.5~315kw
10~420hp

Product Details
Technical Parameters
Catalgue Download
Oil free screw air compressor are widely used in industries that require high quality air sources such as: pharmaceutical, food, electronics, chemical, packaging, etc. 100% pure compressed air is a necessary procedure to guarantee satisfactory crafts and product quality, which ensures the production of high-end products safely and risk-free.
Oil-free water-lubricated air compressors are generally screw-type air compressors, mainly using water agent lubricants to perform lubrication. During the working process, the lubrication, sealing and cooling of the entire main machine are all done by water.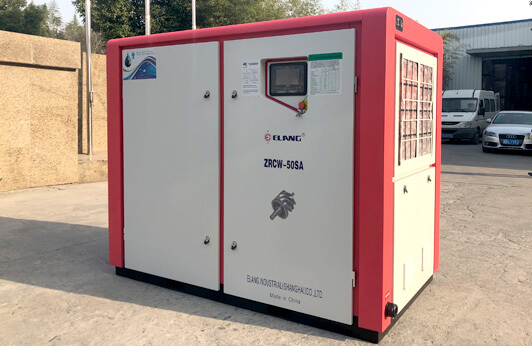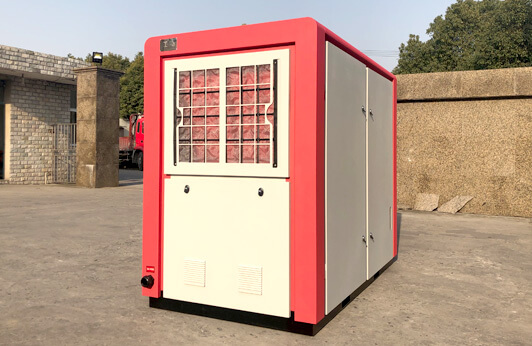 Intelligent control:

ABB high sensitivity high reliability, low failure.




Motor and air end:

Direct connect with high transmission efficiency .




Import monitor:

Clear at a glance

The operation is simple ,thoughtful and powerful.




Cooler:

Copper material,high thermal effects,Ensure isothermal compression,it can work high-temperature conditions,the maximum temperature<45℃ in summer The lowest temperature in winter is +10.




Centrifugal fan:

Lightweight structure,but the structure strength is far greater than axial flow fan,good dynamic balance performance,it has low vibration,low noise,centrifugal fan aerodynamic performance is better than that of axial flow fan,low power consumption,high efficiency and reliable running life.Configuration on the screw air compressor is an excellent choice.
Advantages:
True Energy Saving:
Oil free water lubrication screw air compressor is a kind of compressor that provides clean, pollution-free, 100% oil free screw air compressor, its zero emission can protect the environment efficiently.

True Energy Saving ---- Lubrication, Sealing and Cooling:
Ideal isothermal compression : High efficiency (large air delivery)
Low temperature compression : No need the intercooler and after cooler
Low rotation speed : Low noise, low vibration and no need the overdrive gear
Low viscosity of lubrication water : Easy to be separated with the air

All stainless steel pipe:
Simple ,non-corrosive,non-polluting,high reliablity

Single Stage Compression ,High Efficiency ,and Energy Saving ,and Easy Maintenance:
Single stage compression makes the structure easy.
Compression efficiency is higher than the two stage dry air compressor.
Less consumable parts, easy to be disassembled, reduce the maintenance cost and time greatly.
Application: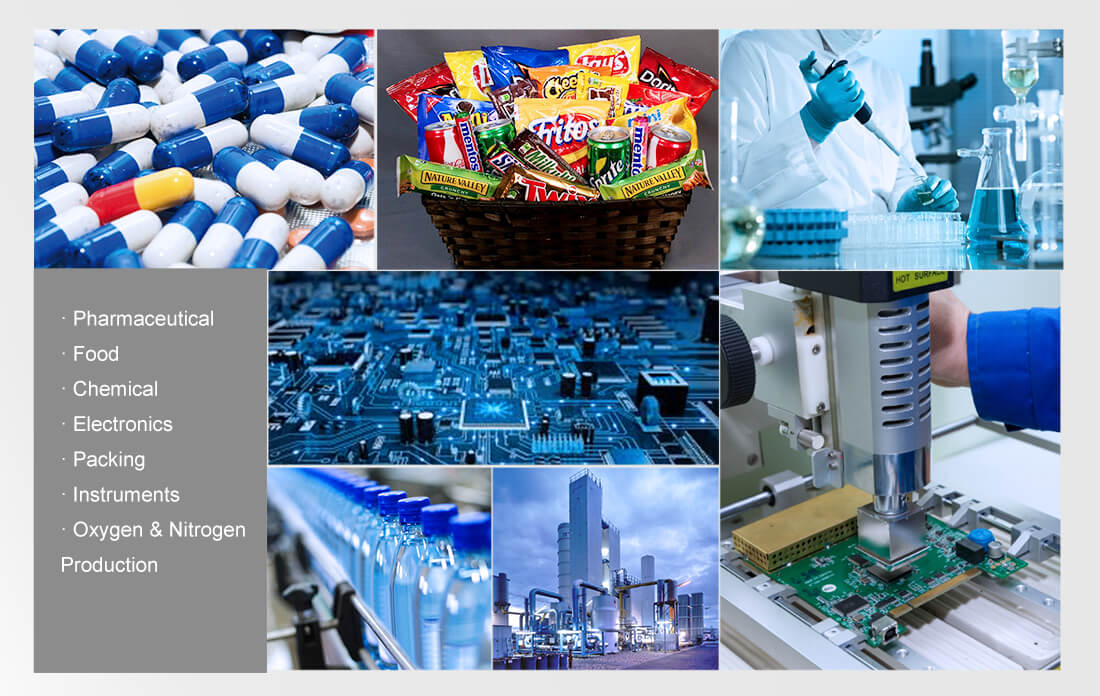 FAQ:
Q1.Why customer choose us?

A:ELANG INDUSTRIAL (SHANGHAI) CO., LTD., with 20 years old history, we are specialized in Rotary Screw Air Compressor. Germany Standard and over 10 years exporting experience help us won more than 50 loyal foreign agents. We warmly welcome your small trial order for quality or market test.



Q2.Are you a manufacturer or trading company?


A:We are professional manufacturer with big modern factory in Shanghai,China.Both OEM & ODM service can be accepted.



Q3.What's your delivery time?


A:Generally 3 to 7 days, if urgently order, pls contact our sales in advance.



Q4.How long is your air compressor warranty?


A:One year for the whole machine and five years for screw air end, except consumble spare parts.



Q5.How long could your air compressor be used?


A:Generally, more than 10 years.



Q6. What's payment term?


A: T/T, L/C, D/P, Western Union, Paypal, Credit Card, and etc.
Also we could accept USD, RMB, Euro and other currency.



Q7.How about your customer service?


A:24 hours on-line service available. 48hours global problem sovled promise.
10+ professional overseas technical service team.



Q8.How about your after-sales service?


A:1. Provide customers with intallation and commissioning online instructions.
2. Well-trained engineers available to overseas service.
3. Worldwide agents and after service avaiable.arrange our engineers to help you training and installation.



Model
Working Pressure
Air Delivery
Motor Power
Dimension(mm)
Weight(kg)
Output pipe Diameter
psig
bar
cfm
m3/min
kw/hp
L
W
H
ZRCW-25SA
100
7
109.5
3.1
18.5/25
1600
910
1350
840
1"
116
8
102.4
2.9
145
10
95.4
2.7
181
12.5
81.2
2.3
ZRCW-30SA
100
7
134.2
3.8
22/30
1450
1000
1560
840
1"
116
8
127.1
3.6
145
10
113.0
3.2
181
12.5
88.3
2.5
ZRCW-40SA
100
7
187.1
5.3
30/40
1950
1050
1432
980
11/4"
116
8
176.6
5.0
145
10
151.8
4.3
181
12.5
127.1
3.6
ZRCW-50SA
100
7
223.0
6.6
37/50
1700
1100
1630
1000
11/4"
116
8
218.9
6.2
145
10
201.3
5.7
181
12.5
162.4
4.6
ZRCW-60SA
100
7
282.7
8.0
45/60
2150
1300
1590
1060
11/2"
116
8
271.9
7.7
145
10
243.6
6.9
181
12.5
211.9
6.0
ZRCW-75SW
100
7
370.8
10.5
55/75
2200
1400
1540
1250
2"
116
8
346.0
9.8
145
10
307.2
8.7
181
12.5
257.8
7.3
ZRCW-100SW
100
7
480.2
13.6
75/100
2400
1450
1740
1480
2"
116
8
459.0
13.0
145
10
109.6
11.6
ZRCW-120SW
100
7
572.0
16.2
90/120
2550
1400
1650
2030
DN50
116
8
547.3
15.5
145
10
494.3
14.0
ZRCW-150SW
100
7
734.4
20.8
110/150
2700
1550
1750
2450
DN65
116
8
688.5
19.5
145
10
582.6
16.5
ZRCW-175SW
100
7
847.4
24.0
132/175
2600
1650
1750
2850
DN65
116
8
812.1
23.0
145
10
706.2
20.0
ZRCW-200SW
100
7
981.6
27.8
160/200
3300
2200
2000
4400
DN80
116
8
935.7
26.5
145
10
829.8
23.5
ZRCW-270SW
100
7
1218.2
34.5
200/270
2850
1700
2000
4400
DN80
116
8
1165.2
33.0
145
10
988.7
28.0
ZRCW-330SW
100
7
1518.3
43.0
250/330
3150
2000
2120
4400
DN80
116
8
1412.4
40.0
145
10
1306.5
37.0
Motor Efficiency Class: Ultraefficient/IE3/IE2 as per your required
Motor Protection Class: IP23/IP54/IP55 or as per your required
Certification: CE/ISO9001/TUV/UL/SGS/ASME
Voltage: 380V/3PH/50HZ/60HZ, 220V/3PH/50HZ/60HZ, 400V/3PH/50HZ/60HZ, 440V/3PH/50HZ/60HZ, 415V/3PH/50HZ/60HZ, 230V/3PH/50HZ/60HZ, dual voltage is also ok
Feedback from contact with us
Related Product