30 Bar - 100 Bar Piston Air Compressor
...
30 Bar - 100 Bar Piston Air Compressor
Working pressure: 30bar - 100bar 435psig - 1450psig
Air delivery: 1.3~6.4m3/min 46cfm - 226cfm
Working power: 15
~22*3
kw

Product Details
Technical Parameters
CATALGUE DOWNLOAD
The air compressor specially designed for medium-pressure laser cutting is an integrated armored equipment developed by ELANG Group for the sheet metal and laser industries. The system is equipped with 1.2m3/min@30bar compressed air, air tank 130L -1000L (optional), stainless steel plate for freeze dryer, lower pressure dew point, 5-stage precision filter, centralized electronic sewage, thereby ensuring the cleanness of the cutting gas source.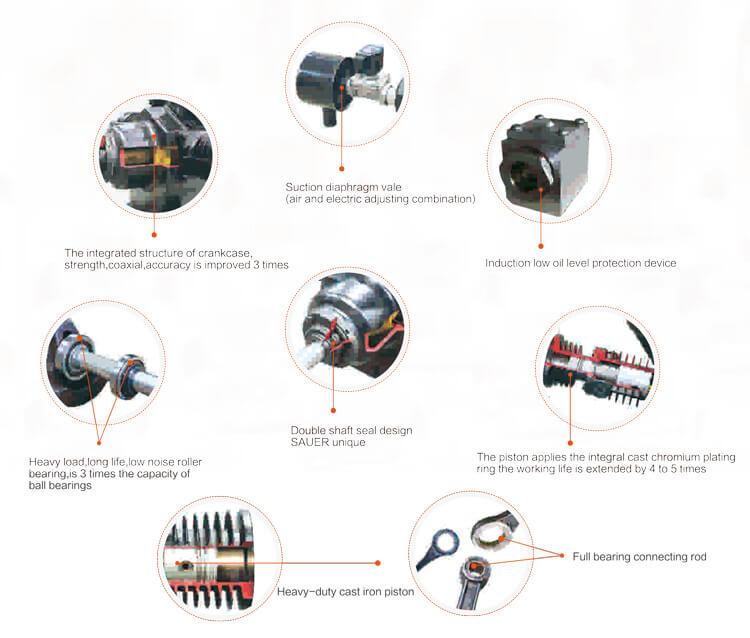 FAQ:
Q1.Why customer choose us?

A:ELANG INDUSTRIAL (SHANGHAI) CO., LTD., with 20 years old history, we are specialized in Rotary Screw Air Compressor. Germany Standard and over 10 years exporting experience help us won more than 50 loyal foreign agents. We warmly welcome your small trial order for quality or market test.



Q2.Are you a manufacturer or trading company?


A:We are professional manufacturer with big modern factory in Shanghai,China.Both OEM & ODM service can be accepted.



Q3.What's your delivery time?


A:Generally 3 to 7 days, if urgently order, pls contact our sales in advance.



Q4.How long is your air compressor warranty?


A:One year for the whole machine and five years for screw air end, except consumble spare parts.



Q5.How long could your air compressor be used?


A:Generally, more than 10 years.



Q6. What's payment term?


A: T/T, L/C, D/P, Western Union, Paypal, Credit Card, and etc.
Also we could accept USD, RMB, Euro and other currency.



Q7.How about your customer service?


A:24 hours on-line service available. 48hours global problem sovled promise.
10+ professional overseas technical service team.



Q8.How about your after-sales service?


A:1. Provide customers with intallation and commissioning online instructions.
2. Well-trained engineers available to overseas service.
3. Worldwide agents and after service avaiable.arrange our engineers to help you training and installation.



Unit Model
Air Discharge
Discharge Pressure
Compression
Stage
Motor Power
rotate speed
Dimensions
Weight
Start Mode
m3/min
Mpa
Kw
r.p.m
(L*W*H)mm
Kg
ERC-1.0/30
1.0
3.0
2
11
590
1450*750*1050
430
Direct Starting
ERC-1.2/30H
1.2
11
620
1450*750*1050
430
2-ERC-2.0/30
2.0
2*11
590
1450*1700*1050
600
2-ERC-2.4/30H
2.4
2*11
620
1450*1700*1050
600
ERC-1.2/30
1.2
15
660
1450*750*1050
430
2-ERC-2.4/30
2.4
2*15
660
1450*1700*1050
600
ERC-1.2/30H-YQ
1.2
11
620
1950*750*1300
570
ERC-1.2/30-YQ
1.2
15
620
1950*750*1300
570
ERC-2.0/30(40)
2.0
3.0 / 4.0
3
22
620
2178*1060*1060
690
Direct Starting
2I-ERC-2.0/30(40)
4.0
2*22
620
3718*1108*1208
1560
2-ERC-2.0/30(40)
4.0
2*22
620
2168*1058*2008
1510
3-ERC-2.0/30(40)
6.0
3*22
620
5608*1108*1208
2528
ERC-1.3/30(40)
1.3
15
660
1700*830*1030
560
2-ERC-1.3/30(40)
2.6
2*15
660
1750*2000*1610
1128
3-ERC-1.3/30(40)
3.9
3*15
660
3470*1110*1610
1788
4-ERC-1.3/30(40)
5.2
4*15
660
4630*1110*1610
2278
ERC-1.6/30(40)
1.6
18.5
720
1700*830*1030
560
2-ERC-1.6/30(40)
3.2
2*18.5
720
1750*2000*1230
1160
3-ERC-1.6/30(40)
4.8
3*18.5
720
3470*1108*1608
1760
4-ERC-1.6/30(40)
6.4
4*18.5
720
4630*1110*1610
2380
ERC-0.6/70
0.6
4.5-7.0
3
11
620
1580*950*1050
530
Direct Starting
ERC-1.0/70
1.0
4.5-7.0
15
720
1580*950*1050
530
ERC-0.6/100
0.6
7.0-10.0
11
660
1580*950*1050
600
ERC-0.9/100
0.9
7.0-10.0
15
790
1580*950*1050
600
ERC-1.7/50
1.7
5.0
3
22
660
1950*950*1100
680
Direct Starting
2-ERC-1.7/50
3.4
22*2
660
3100*950*1850
1400
3-ERC-1.7/50
5.1
22*3
660
4600*950*1850
2100
Related Product