CNG Natural Gas Oil Lubrication Screw Air Compressor
...
CNG Natural Gas Oil Lubrication Screw Air Compressor

Product Details
CATALGUE DOWNLOAD
Compressor adopts integral skid mounting structure, all parts are mounted on the skid, including compressor main engine, air inlet separator, oil and gas separator, cooler, automatic control system and process pipeline, etc. The unit can meet the requirement of no foundation installation. All process pipes connected with the pry outside are connected to the edge of the pry block and equipped with matching flanges and fasteners. After arriving at the site, only power supply is needed to connect the inlet and outlet pipelines and vent pipelines to put into use. Compressor unit is equipped with bypass pipeline connecting intake and exhaust ports. The bypass pipeline has the function of automatically opening after power failure or failure of the unit and automatically closing after power failure.
The compressor is equipped with PLC control system and LCD display. The PLC control system and LCD screen are installed in the control cabinet.
1. Compressor Characteristic:
Flexible Application and Strong Adaptability
● It can reduce the impact of changes in natural gas composition.
● It is more suitable for natural gas compression with liquid or saturated water vapor.
● The main air end has strong corrosion resistance and high wear resistance, and can adapt to the situation of natural gas containing corrosive gas.
● The pressure of intake and exhaust can be used in a wide range (intake - 0.67 Bar (vacuum) to 17 BarG, exhaust 1.36 BarG to 35 BarG).
● Various driving modes can be selected, such as motor, diesel engine and gas engine.
Low Installation Cost
● The on-site connection is convenient and simple. Users only need to connect the access interface, hose or hard pipe connection.
● No foundation is needed. The oil lubricated screw compressor runs steadily without pressure fluctuation. The flat ground can withstand the self-weight of the machine without concrete foundation and grouting.




Low Operating Costs





● It has high reliability and can run without fault all the year round.
● Less vulnerable parts, lower operating and maintenance costs than other types of compressors.





Strong Mobility





● Compressors can be installed directly on trucks or trailers to meet the needs of mobile work.
● The design of variable content area ratio (Vi) makes the compressor work at the optimum efficiency point under different working conditions, saves the daily operation cost and reduces the downtime risk.
2. Air End Characteristic:
Adopts oil lubricated gas screw compressor technology and mature natural gas application experience in the United States market, to manufacture oil lubrication natural gas screw compressor to meet the requirements of natural gas gathering and transportation.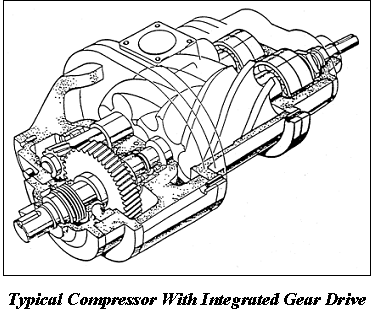 ● Compressors are driven by built-in gears with AGMA11 grade. Various gear speed ratios provide economical and efficient compressor selection. Whether it is driven by gas engine or diesel engine or natural gas engine, it can provide optimal driving coordination.
● Less moving parts mean less parts need to be maintained. There is no necessary valve, seal and piston ring on piston compressor which need to be maintained and replaced regularly to reduce downtime.
● The lubricating oil has the functions of sealing, cooling and lubricating. Lubricating oil can seal the gap between male and female rotors, improve compression efficiency; cool compressed gas, allow higher stage compression ratio in each stage compression; lubricate rotors and bearings, improve service life.
● Roller bearings are used at the inlet end of the rotor and tapered roller bearings at the exhaust end. The bearings selected are of super-long service life. All bearings are equipped with corrosion-resistant steel cover, specially designed internal clearance of bearings. The bearing adopts L10 grade and its service life reaches 80,000 hours.
● Compressor air end adopts upper intake and lower outlet design, which is suitable for containing a large number of liquids and impurities in compressed media.
● Rotor positioning seal ensures perfect sealing. Even under negative pressure suction, external natural gas will not enter the rotor compression chamber and lubricant will not leak. The compressor permits a maximum of 0.67 Bar (vacuum) suction under negative pressure.
● Viton material is used for sealing O-ring, which is abrasion resistant, high temperature resistant and corrosion resistant. It is suitable for the application of methane, ethane and other gases.
● Due to the lubrication film between the rotors, the compressor allows high-speed operation, which makes the compressor more compact and reduces the cost.
● Screw compression technology eliminates the pressure pulsation that often occurs in other types of compressors and eliminates any possibility of excessive vibration. Compressors have no special requirements for foundations.
● With single-stage compression and two-stage compression options, the maximum outlet pressure can reach 3.5 MPa (35bar).
● All cast iron or steel structures do not contain copper or copper alloys, so compressors can be applied to natural gas, corrosive gases and other multiple applications.
● Compressor has variable content area ratio (Vi) adjustment function. By adjusting, the internal compression ratio of the compressor is matched with the actual application to achieve the highest compression efficiency.
3. CNG Oil Lubrication Screw Air Compressor:
Type: Oil lubricated screw air compressor
Design service life: At least 20 years, compressor air end is original imported from SULLAIR USA.
Noise does not exceed 89dB (A) at a distance of 1 meter from compressor unit.
ELANG has taken the lead to design delicated industrial compressors in China
---- CNG Screw Air Compressor
Compressor
Model
ERC-1217/132
Type of cooling
Air cooling
Inlet pressure
bar (G)
1.2
Discharge pressure
bar (G)
24
Inlet temperature
℃
20
Air delivery / Working pressure
Nm3/min
45.0Nm3/min (2700Nm3/h)
Driven method
Direct driven
Air end discharge temperature
℃
80
Final discharge temperature
℃
≤ambient temperature +15 ℃
Noise
dBA
89 ±2
Motor
Motor power
KW
132kw
Shaft power
121.9kw
Voltage
V/Hz/Ph
380/50/3
Service factor
SF
1.0SF
Motor protection class
IP54
Insulation class
F
Temperature rise
Grade B
Motor explosive-proof grade
ExdIIBT4
Unit
Dimension (mm)
L
3600
W
2400
H
2400
Weight
kgs
4500
Coupling and Protective Cover
The coupling transmission mode is adopted between the compressor and the driving machine.
All moving parts that may endanger personal safety are provided with protective shields.
Shield is made of sparkless material.
Performance Guarranty:
Compressor shaft power: +/-5%;
Compressor air delivery: +/-5%;
Compressor discharge pressure: no negative deviation.
A bypass control valve is installed between the inlet and outlet of the compressor to realize light load start-up and unloading functions.
The inlet of the compressor is equipped with pressure sensor, which is used for low pressure alarm and flow control.
The outlet of the compressor is equipped with a pressure sensor for display, setting and high exhaust pressure alarm.
All instruments are SI unit, pressure unit MPa, temperature C.
The company provides on-site primary instruments, including on-site pressure transmissions, liquid level transmissions, pressure gauges, differential pressure meters, thermometers, liquid level meters and PLC cabinets. All field instruments and control cabinets meet the explosion-proof standard dIIBT4.
All wiring of the compressor control system cabinet is completed in the factory.
Compressor flow and pressure control mode adopts variable frequency flow regulation mode to achieve constant exhaust pressure.
The PLC control cabinet and frequency converter of 3.6.4 compressor are installed in the safe area. The compressor is equipped with explosion-proof operation column.
Compressor Protection Fuctions:
Item
Descriptions
Display
Alarming
Stop
1
Emergency stop button
√
2
Discharge pressure
√
√
√
3
High oil temperature
√
√
√
4
Replace oil separator element
√
differential
pressure gauge
5
Replace air filter element
6
Replace oil filter element
7
Low oil level
√
√
√
8
Low lubricating oil pressure
√
√
√
9
Discharge temperature
√
√
√
10
Inlet pressure
√
√
11
Total running time
√
12
Total unload time
√
13
Failure stop
√
√
√
14
No load
√
15
Off load
√
16
Ready to start
√
17
Standard by
√
18
Start
√
19
Failure to start
√
20
During stopping
√
21
Rotation speed of motor
√
22
Motor current
√
23
Emergency stop
√
√
√
Recommend spare parts for one year
| | |
| --- | --- |
| Name | Times |
| Lubricating Oil | 1 time |
| Oil separator element | 1pc |
| Oil filter element | 2pcs |
| Air filter | 1pc |
FAQ:
Q1.Why customer choose us?

A:ELANG INDUSTRIAL (SHANGHAI) CO., LTD., with 20 years old history, we are specialized in Rotary Screw Air Compressor. Germany Standard and over 10 years exporting experience help us won more than 50 loyal foreign agents. We warmly welcome your small trial order for quality or market test.



Q2.Are you a manufacturer or trading company?


A:We are professional manufacturer with big modern factory in Shanghai,China.Both OEM & ODM service can be accepted.



Q3.What's your delivery time?


A:Generally 3 to 7 days, if urgently order, pls contact our sales in advance.



Q4.How long is your air compressor warranty?


A:One year for the whole machine and five years for screw air end, except consumble spare parts.



Q5.How long could your air compressor be used?


A:Generally, more than 10 years.



Q6. What's payment term?


A: T/T, L/C, D/P, Western Union, Paypal, Credit Card, and etc.
Also we could accept USD, RMB, Euro and other currency.



Q7.How about your customer service?


A:24 hours on-line service available. 48hours global problem sovled promise.
10+ professional overseas technical service team.



Q8.How about your after-sales service?


A:1. Provide customers with intallation and commissioning online instructions.
2. Well-trained engineers available to overseas service.
3. Worldwide agents and after service avaiable.arrange our engineers to help you training and installation.



Related Product