PM VSD Screw Air Compressor
...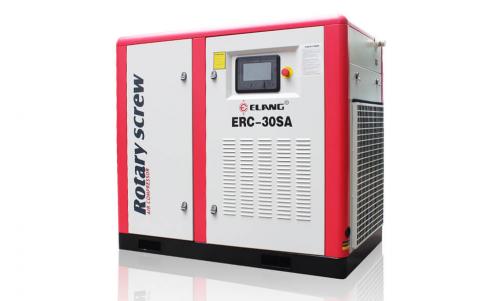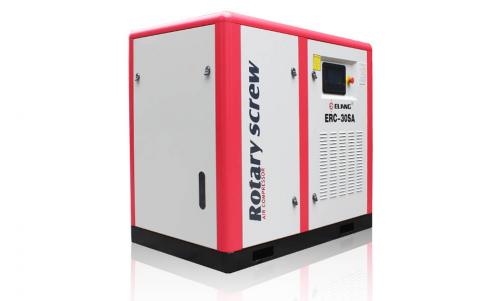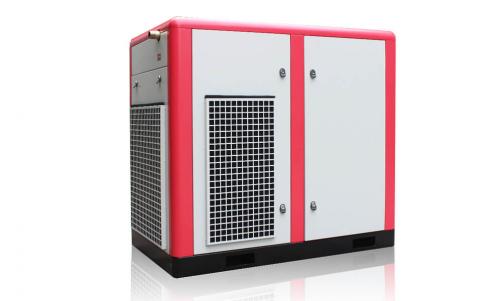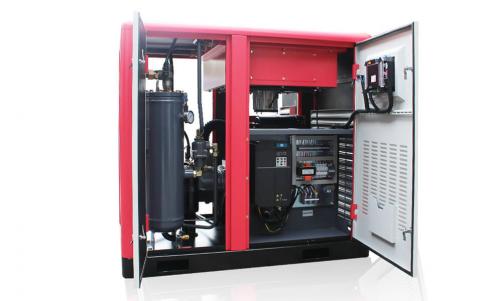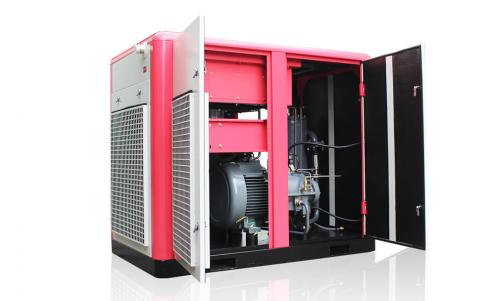 PM VSD Screw Air Compressor
Working pressure: 7 ~ 12.5 bar 100 ~ 181 psig
Air delivery: 0.72 ~ 102.0 m3/min 25.4 ~ 3601.6 cfm
Working power: 5.5~560kw 7.5~750hp
Frequency range: 40%~100%

Product Details
Technical Parameters
Catalgue Download
The permanent magent synchronizing variable frequency compressor is a most recent compressor with excellent quality and high efficiency and energy saving at present. It is an advanced technique owned by only a few advanced countries and zones in the world. It is a high-end tendency for the future compressor development. The design concept and technical measure has broken through the traditioncal concept. It integrates the most sophisticated and energy saving technical factors.
What is VSD?
Variable speed drive (VSD) compressor, also called variable frequency compressors (VFC), adopts an intelligent drive system to continuously change the motor speed which will lead the air end rotation speed changes synchronously to match the air consumption.
This frequency inverter controls the rotation speed (RPM) of the motor depending on the air consumption, fluctuating the amount of power that is used to perfectly match the air delivery required. When the air delivery demanding decreased, the motor speed of air compressor will be reduced and the power consumption of the compressor is also reduced, so as to achieve the energy saving effciency.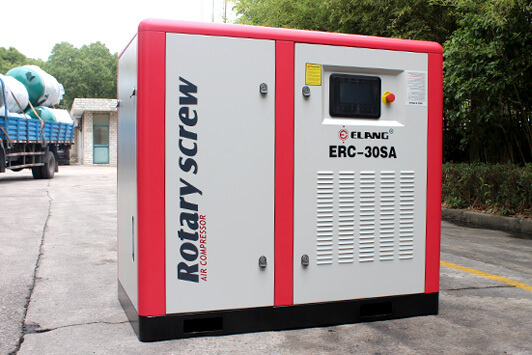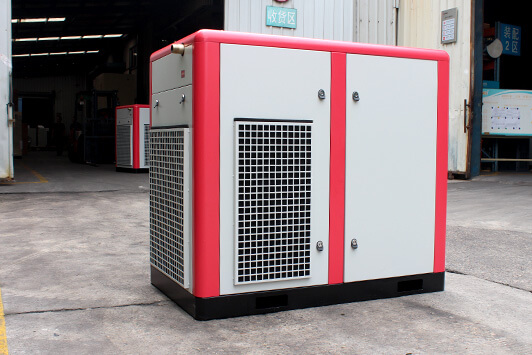 Advantages:
PM motor has 2~ to 7% higher working efficiency than three-phase asynchronous motor. No matter in underloading or overloading conditions, PM compressors keep high working efficiency while three-phase asynchronous motor will have fluctuant efficiency according to the loading conditions. Therefore, compressors with PM motor will save 8% to 30% energy than those with three-phase asynchronous motor.Specialized PM motor has power factor large than 0.95, even close to 1 in some models. Moreover, PM compressors are installed with frequency converter to realize variable frequency starting and decrease the impact to compressor unit and power grid during starting, so as to save operation costs.

1.PM VSD(Variable speed drive) air compressor is a modern new technology air compressor with novel and beautiful appearance!
2.Internally efficient, energy saving!
3.Small machine size, Silent ,durable and run smoothly!
4.Save many troubles of regular maintenance and replacement!
5.lower system pressure reduces the risk of leaks!
6.Bigger factory with contiously production all year round!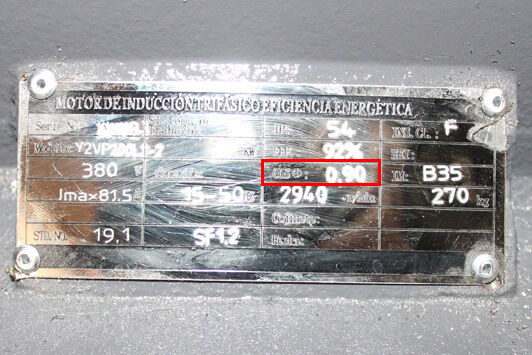 1)The efficiency of the PM motor is always maintained at the level of about 0.95, the power factor is close to 1, and it is increased by 5%-10% compared with the same specifications of the asynchronous motor . The motor is always maintained high efficiency whatever at a light or heavy loads.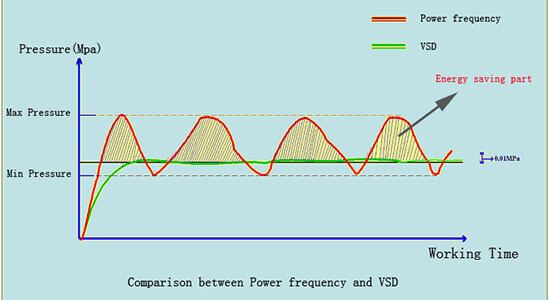 2)Variable Frequency start, reducing the energy consumption of air compressor start, a substantial reduction in starting current and maximum power load, saving a lot of electricity, allowing unlimited start and stop, and does not affect the motor life.
3)The comprehensive energy saving of VSD air compressor reach the rate of 20% -35%, power saving is considerable. Machine efficiency is more 12% to 18% than ordinary air compressor, and it belongs to IE3 energy efficiency standards,The increasing purchase cost is generally recovered within 1 year!
Energy Saving Example: Rated Power 30kW Screw Air Compressor
If 16 hours a day/5600 hours a year. Electricity payment is 0.16USD per KW/H, SF=1.2:
Normal screw compressor has three losses:
A.Unload loss
B.Pressure loss
C.Motor efficiency loss
Calculation As Follows:
A. Unload loss=25% unloading time*The loss of the current load during no-load time (45%):
Unload loss=0.25*(0.45*1.2*30*5600)*0.16= 3628.8 USD/Year
B. Pressure loss=75% loading time* The loss of the pressure loss(2bar/14%)
Pressure loss=0.75*(0.14*1.2*30*5600)*0.16=3386.88USD/Year
C. Motor efficiency loss: 30kw The servo motor is about 5% higher than the normal motor:
motor efficiency loss=30*1.2*5600*0.05*0.16=1612.8USD/Year
Total cost savings: 3628.8+3386.88+1612.8=8628.48USD/Year
Total cost of normal 30kw air compressor: Cost of 75% loading time + Cost 25% unloading time
=0.75*1.2*30*0.16*5600+0.25*0.45*1.2*30*0.16*5600=27820.8USD/Year
Power saving reached:8628.48/27820.8=31%
Application: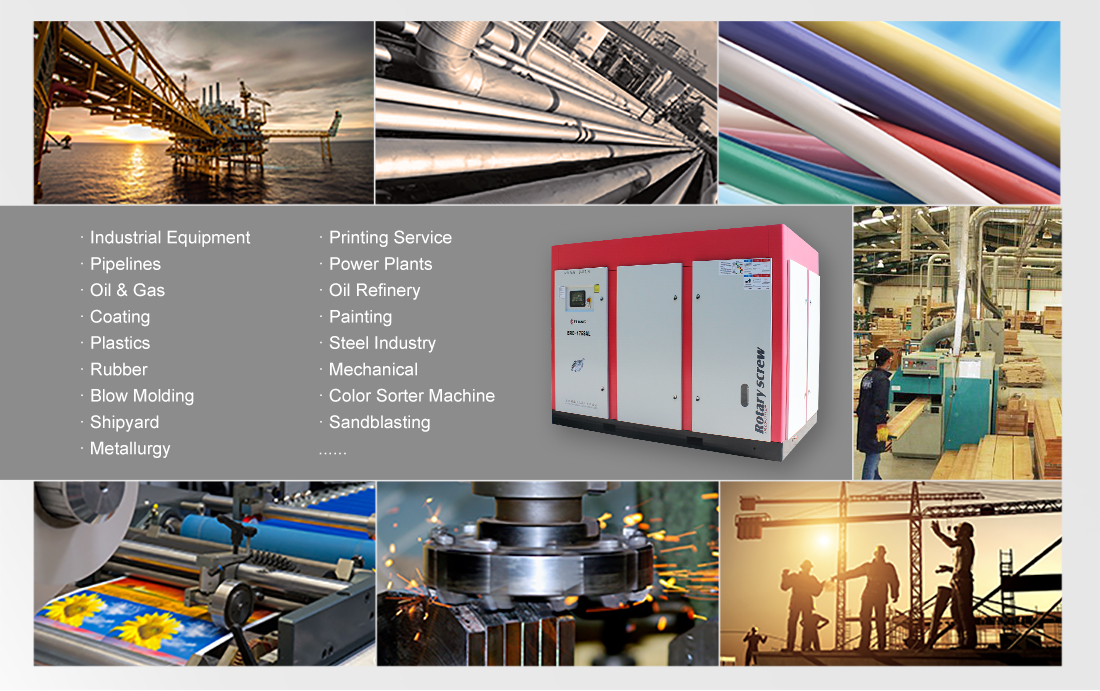 FAQ:
Q1.Why customer choose us?

A:ELANG INDUSTRIAL (SHANGHAI) CO., LTD., with 20 years old history, we are specialized in Rotary Screw Air Compressor. Germany Standard and over 10 years exporting experience help us won more than 50 loyal foreign agents. We warmly welcome your small trial order for quality or market test.



Q2.Are you a manufacturer or trading company?


A:We are professional manufacturer with big modern factory in Shanghai,China.Both OEM & ODM service can be accepted.



Q3.What's your delivery time?


A:Generally 3 to 7 days, if urgently order, pls contact our sales in advance.



Q4.How long is your air compressor warranty?


A:One year for the whole machine and five years for screw air end, except consumble spare parts.



Q5.How long could your air compressor be used?


A:Generally, more than 10 years.



Q6. What's payment term?


A: T/T, L/C, D/P, Western Union, Paypal, Credit Card, and etc.
Also we could accept USD, RMB, Euro and other currency.



Q7.How about your customer service?


A:24 hours on-line service available. 48hours global problem sovled promise.
10+ professional overseas technical service team.



Q8.How about your after-sales service?


A:1. Provide customers with intallation and commissioning online instructions.
2. Well-trained engineers available to overseas service.
3. Worldwide agents and after service avaiable.arrange our engineers to help you training and installation.



Model
Working Pressure
Air Delivery
Motor Power
Dimension(mm)
Weight
(kg)
Output pipe
Diameter
psig
bar
cfm
m3/min
kw/hp
L
W
H
ERC-10SA
100
7
15.5-38.8
0.44-1.1
7.5/10
850
640
880
350
3/4"
116
8
14.1-35.3
0.4-1.0
145
10
12.0-30.3
0.34-0.85
181
12.5
9.9-24.7
0.28-0.7
ERC-15SA
100
7
25.4-63.6
0.72-1.8
11/15
1150
750
1180
450
3/4"
116
8
24.7-58.3
0.7-1.65
145
10
21.2-53.0
0.6-1.5
181
12.5
18.4-45.9
0.52-1.3
ERC-20SA
100
7
33.9-84.7
0.96-2.4
15/20
1150
750
1180
460
3/4"
116
8
31.1-77.6
0.88-2.2
145
10
29.7-74.2
0.84-2.1
181
12.5
25.4-63.6
0.72-1.8
ERC-25SA
100
7
47.8-109.5
1.2-3.1
18.5/25
1200
850
1280
665
1 1/4"
116
8
41.0-102.4
1.2-2.9
145
10
38.1-95.3
1.1-2.7
181
12.5
32.5-81.2
0.9-2.3
ERC-30SA
100
7
53.7-134.2
1.5-3.8
22/30
1200
850
1280
665
1 1/4"
116
8
50.8-127.1
1.4-3.6
145
10
45.2-113.0
1.3-3.2
181
12.5
39.5-88.3
1.1-2.8
ERC-40SA
100
7
74.9-187.1
2.1-5.3
30/40
1450
1000
1465
1110
1 1/2"
116
8
70.6-176.6
2.0-5.0
145
10
60.7-151.8
1.7-4.3
181
12.5
50.8-127.1
1.4-3.6
ERC-50SA
100
7
93.2-233.0
2.6-6.6
37/50
1450
1000
1465
1110
1 1/2"
116
8
87.6-218.9
2.5-6.2
145
10
80.5-201.3
2.3-5.7
181
12.5
65.0-162.4
1.8-4.6
ERC-60SA
100
7
113.0-282.5
3.2-8.0
45/60
1450
1000
1465
1750
1 1/2"
116
8
108.8-271.9
3.1-7.7
145
10
94.6-243.6
2.7-6.7
181
12.5
84.7-211.9
2.4-6.0
ERC-75SA
100
7
148.3-370.8
4.2-10.5
55/75
2100
1250
1700
1750
2"
116
8
138.4-346.0
3.9-9.8
145
10
122.9-307.2
3.5-8.7
181
12.5
103.1-257.8
2.92-7.3
ERC-100SA
100
7
192.1-480.2
5.4-13.6
75/100
2100
1250
1700
1840
2"
116
8
183.6-459.0
5.2-13.0
145
10
159.6-399.0
4.5-11.3
181
12.5
142.7-356.6
4.0-10.1
ERC-120SA
100
7
228.8-572.0
6.5-16.2
90/120
2170
1320
1750
2030
2"
116
8
217.5-543.8
6.2-15.4
145
10
186.4-466.1
5.3-13.2
181
12.5
158.2-395.5
4.5-11.2
ERC-150SA
100
7
293.8-734.45
8.3-20.8
110/150
2545
1500
1900
3100
DN65
116
8
275.4-688.5
7.8-19.5
145
10
233.0-582.6
6.6-16.5
181
12.5
193.5-483.7
5.5-13.7
ERC-175SA
100
7
339.0-847.4
9.6-24
132/175
2545
1500
1900
3400
DN65
116
8
324.9-812.1
9.2-23
148
10
282.5-706.2
8-20
181
12.5
218.9-547.3
6.2-15.5
ERC-200SA
100
7
392.6-981.6
11.1-27.8
160/200
2545
1500
1900
3400
DN65
116
8
367.2-918.1
10.4-26
145
10
331.9-829.8
9.4-23.5
181
12.5
275.4-688.5
7.8-19.5
ERC-250SA
100
7
459.0-1147.6
13-32.5
185/250
2790
1550
2000
3780
DN65
116
8
437.84-1094.6
12.4-31
145
10
367.2-918.1
10.4-26
181
13
305.1-762.7
8.6-21.6
ERC-270SA
100
7
487.3-1218.2
13.8-34.5
200/270
2850
1700
2000
4400
DN80
116
8
466.1-1165.2
13.2-33
145
10
9395.5-88.7
11.2-28
181
13
331.9-829.8
9.4-23.5
ERC-300SA
100
7
536.7-1341.8
15.2-38
220/300
3150
2000
2120
4930
DN100
116
8
515.5-1288.8
14.6-36.5
145
10
452.0-1129.9
12.8-32
181
13
381.4-953.4
10.8-27
ERC-330SA
100
7
1517.9-1518.3
17.2-43
250/330
3150
2000
2120
5450
DN100
116
8
572.0-1430.1
16.2-40.5
145
10
515.5-1288.8
14.6-36.5
181
13
452.0-1129.9
12.8-32
ERC-375SA
100
7
727.4-1818.5
20.6-51.5
280/375
4000
2000
2100
6150
DN125
116
8
706.2-1765.5
20-50
145
10
635.6-1589.0
18-45
181
13
522.6-1306.5
14.8-37
ERC-420SA
100
7
791.0-1977.4
22.4-56
315/420
4600
2300
2400
7500
DN125
116
8
776.8-1942.1
22-55
145
10
692.1-1730.2
19.6-49
181
13
579.1-1447.7
16.4-41
ERC-470SA
100
7
903.9-2259.8
25.6-64
355/470
4600
2300
2400
8100
DN150
116
8
875.7-2189.2
24.8-62
145
10
762.7-1906.7
21.6-54
181
13
649.7-1624.3
18.4-46
ERC-550SA
100
7
1031.0-2577.6
29.2-73
400/550
5000
2350
2400
8400
DN150
116
8
988.7-2471.7
28-70
145
10
861.6-2153.9
24.4-61
181
13
734.4-1836.1
20.8-52
ERC-600SA
100
7
1144.0-2860.1
32.4-81
450/600
5500
2590
2800
9000
DN150
116
8
1115.8-2789.5
31.6-79
145
10
988.7-2471.7
28-70
181
13
833.3-2083.3
23.6-59
ERC-670SA
100
7
1257.0-3142.6
35.6-89
500/670
5500
2590
2800
9500
DN200
116
8
1228.8-3072.0
34.8-87
145
10
1087.6-2718.9
30.8-77
181
13
946.3-2365.8
26.8-67
ERC-750SA
100
7
1440.6-3601.6
40.8-102
560/750
6500
2700
3000
10000
DN200
116
8
1384.2-3460.4
39.2-98
145
10
1228.8-3072.0
34.8-87
181
13
1087.6-2718.9
30.8-77
Motor Efficiency Class: Ultraefficient/IE3/IE2 as per your required
Motor Protection Class: IP23/IP54/IP55 or as per your required
Certification: CE/ISO9001/TUV/UL/SGS/ASME
Voltage: 380V/3PH/50HZ/60HZ, 220V/3PH/50HZ/60HZ, 400V/3PH/50HZ/60HZ, 440V/3PH/50HZ/60HZ, 415V/3PH/50HZ/60HZ, 230V/3PH/50HZ/60HZ, dual voltage is also ok
Related Product